CO-FOUNDER OF GRAND SLAM GLAM
While other kids were learning their ABCs, Jordan was learning how to curl hair and apply lipstick. "My mom is a lawyer so she had to travel a lot for work. I realized that if my mom was out of town, my dad was the only one there to do my hair," said Jordan, "and it only took me one bad hair day to realize that was going to be a problem. I refused to go to school if I didn't look cute. So, I watched my mom do her hair and makeup every morning and started to emulate her very early on." I guess you could say this Texas pageant queen truly gets it from her momma!
Jordan spent hours honing her craft on her baby dolls until she began dancing competitively. Jordan entered her first pageant at 16 and she was hooked. She competed for the titles of Miss Texas, Miss Texas USA and Miss Nevada USA where she was amongst the top 10 contestants multiple times and got as close to winning the crown as 1st runner up. While competing Jordan took her passion to a new level and mastered hair and makeup for stage and photography. All of her pageant tricks and tips still come in handy today as she styles brides to perfection.
In December of 2014, Jordan married her best friend and soulmate, Logan Bawcom. Logan is a professional baseball pitcher. Together they two sweet babies, Nayvie Langston and Briggs Legend, and love to enjoy a glass of fine wine, travel and do DIY projects. Having been a bride herself, Jordan knows exactly how her clients feel and is able to make them feel calm and confident so they can truly soak in every moment of their big day!
Favorite Team
"I really don't have a favorite team, just a favorite player... my husband, Logan. I will always be his biggest fan so whatever team he is on I will root for!"
CanT Live Without
"Mascara. I did not "wake up like dis" so I literally apply mascara first thing in the morning to give me a bright eyed look!"
Her Secret Wish
"To be Ariel from The Little Mermaid or to be the next Chip and Joanna Gaines and remodel houses with my husband! We love DIY-ing and home decor. #SHIPLAP"
CO-FOUNDER OF GRAND SLAM GLAM
Reilly has always been a creative and driven spirit. While the other kids were playing with baby dolls and barbies, Reilly was constantly creating. Reilly's love for makeup was initially inspired by her desire to be more like her big sister, Co-Founder Jordan Bawcom. A quick study, Reilly swiftly mastered the art of makeup and hair styling by following in the "brushstrokes" of her older sister. Reilly recalls, "I don't think I was ever on time for a school dance. Even in middle school, all of my friends would rendezvous at my house to get ready... which really meant that Jordan and I had to do hair and makeup on all of them!".

As Reilly continued to grow so did her love for makeup. At age 14 she was tricked into competing in her very first beauty pageant. Backstage she quickly found herself helping more and more of the contestants by pinning flyaways and applying false lashes. It wasn't until 2011 when Reilly was crowned as Miss Texas' Outstanding Teen, that she became the polished stylist she is today. " I guess I have been perfecting my skills as a stylist my entire life, but my year as Miss Texas' Outstanding Teen made a world of difference in my artistry. I was so blessed to work with so many talented hair and makeup gurus during my reign that helped me perfect my technique and develop a sense of style that is all my own."
Reilly graduated with a Modern Dance BFA degree from Texas Christian University and continues to nurture her creative side as a dance teacher. "I love my busy life. If you can't find me with a makeup brush in hand, you can surely finding me in studio sweating all of my makeup off!". Reilly lives her life by the motto "do it with passion or not at all" so you can bet that working with Reilly is a unique experience, full of passion, attention to detail and most of all fun!
Favorite Team
"I am a Texas girl through and through.. and therefore I can't bring myself to openly cheat on my state. Naturally, I love the Rangers, but I can't forget my TCU Horned Frogs! Win or lose, we still win.. because.. Texas."
CanT Live Without
"You know how some politicians say 'DENY DENY DENY'..? Well I say 'CONCEAL CONCEAL CONCEAL'! You won't find me anywhere without a healthy stash of concealer. I use it almost every day. It really saves lives... but mostly just the bags under my eyes."
Her Secret Wish
"I love going to the movies. My biggest wish is to actually be in one someday in any capacity! I just want to be on set and behind the scenes of a production, immersed in all of the buzz and energy. Obviously people, I'm dreaming of stardom, but I think I would still make an amazing extra."
Hometown: Louisville, Kentucky
MVP Product: Not Your Mothers Double Take dry finishing spray
Favorite Team: The Red Sox / Louisville Sluggers
How it all began: I've been playing with hair and makeup as long as I can remember. I always knew that I wanted to be a hairdresser and a makeup artist. I love the way I can make someone feel more confident, bold, and beautiful with just a little bit of hair and makeup help. It makes my job so rewarding when my clients can see themselves in a different light.
Hometown: Dallas, Texas
MVP Product: Tarte shape tape concealer and Laura Mercier translucent powder. They make the best duo!
Favorite Team: The Texas Rangers
How it all began: I started drawing pencil portraits at the age of 13. I always loved art and creating with my hands. I began using those skills to do makeup in high school on myself and my friends. I took a job for Yves Saint Laurent when I was 21 years old in NYC. Even though I have moved around a bit, my love for makeup has never changed.
Hometown: Canton, Texas
MVP Product: I'm obsessed with Kylie Jenner lip kits and anything from Morphe.
Favorite Team: The Los Angeles Dodgers
How it all began: My passion for doing makeup initially sparked when I started learning how to do my own makeup for beauty pageants. While competing in the Miss Texas America program, my love for makeup and my skills only grew stronger. I feel so lucky that my hobby and passion has become my job. I love getting to share my talents with my clients.
Hometown: Fort Worth, Texas
MVP Product: Big and Sexy Powder Play
Favorite Team: The Texas Rangers
How it all began: I got my start in the industry by working as a receptionist at a hair salon. I quickly realized that I loved working in that kind of atmosphere and the idea of getting to be creative everyday. I then enrolled in cosmetology school and have fallen even more deeply in love with styling hair and my job since!
Hometown: Keller, Texas
MVP Product: Lilly Lashes - Hollywood or Morphe Foundations
Favorite Team: The Texas Rangers
How it all began: My interest in makeup started in middle school when I would go to the mall and sit at the makeup counters and learn all about new products, watch techniques, and make new friends. Before starting a family of my own, I was a school teacher. After having my first beautiful child, Quinlan, I decided to combine my love of makeup and working with people which has lead me here.

Hometown: Dallas, TX
MVP Product: MAC Satin lipstick in shade Fleshpot
Favorite Team: Texas Rangers
How it all began: I am so passionate in creating a healthy glow from within.I am a LA certified makeup artist, Master Esthetician as well as an Esthetics Instructor. I've always had a love for beauty, skin and education. Being in the beauty industry for ten years has allowed me to learn new beauty tips and tricks that helps me educate my clients, as well as, create a multitude of styles for different occasions.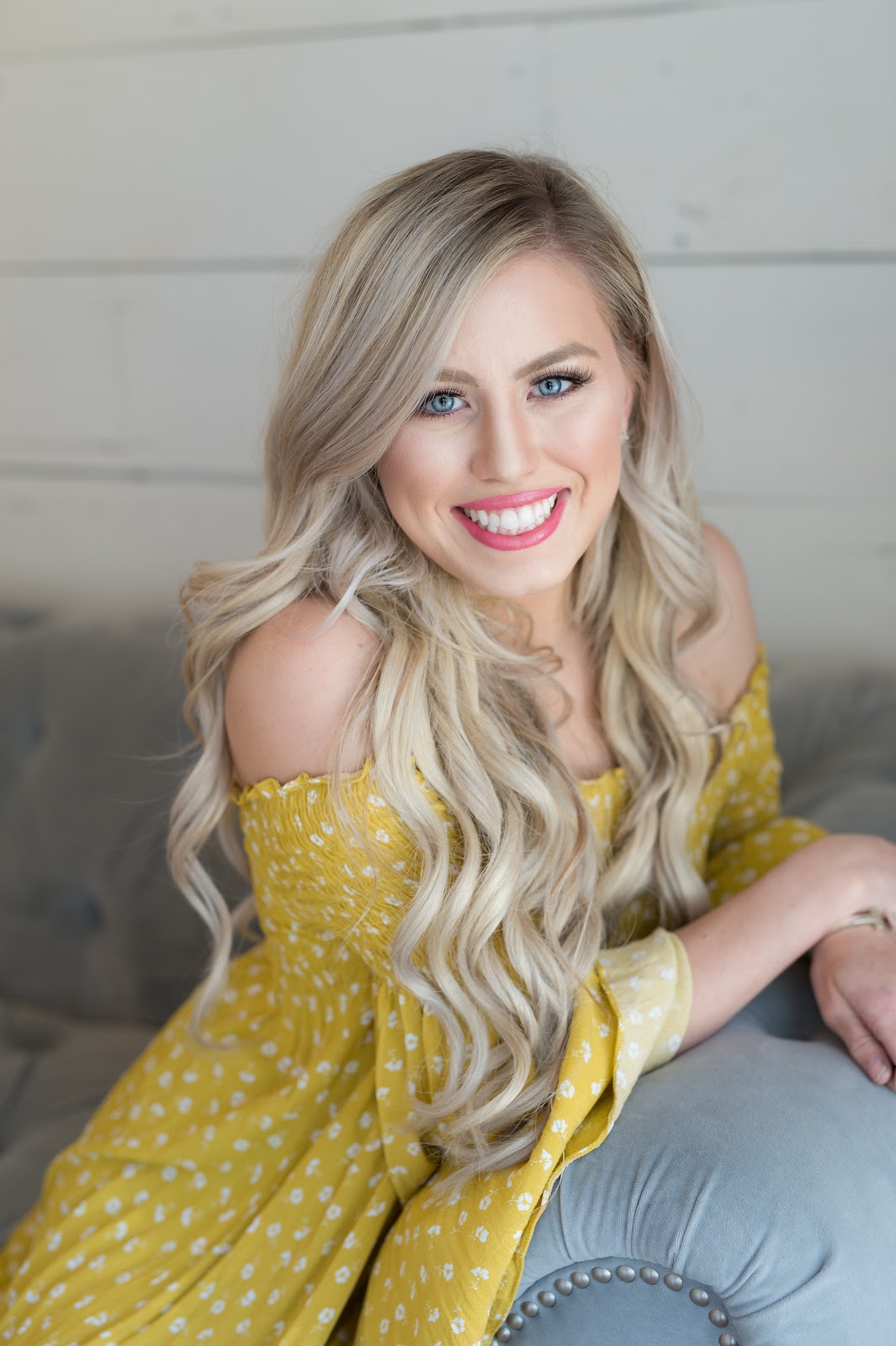 Hometown: Born in Lubbock, Texas (Guns up!) and raised in Mansfield, Texas
MVP Product: Babyliss Curling Irons
Favorite Team: Chicago Cubs
How it all began: My journey of choosing to work in the hair and makeup industry started at a very young age. Makeup and hair have always been a part of me, honestly. My mother, who has a background in pageants, was always doing fun things with my hair and playing with my makeup as I grew up. Naturally, I followed in her footsteps and my curiosity and creativity for hair and makeup continued to develop as I experimented with new styles. In high school all of my friends wanted me to do their hair and makeup. I even taught myself how to make my own hair extensions and began coloring them on my own. Having realized my hobby had become a true talent of mine, I enrolled in cosmetology school. There I obtained a certification in specialized hair coloring, makeup, and extensions. My Momma always said, "Do whatever makes you happy," and I can't imagine doing anything else.

Hometown: Humble, Texas
MVP Product: It is so hard to pick only one! But hands over my heart, R and Co Death Valley Dry Shampoo.
Favorite Team: The Houston Astros, However, since I am married my husband will say The Red Sox. Honestly, that's fine with me, because I will watch Andrew Benintendi in uniform anyday. *Wink wink*
How it all began: I've known I would be a hairstylist and makeup artist ever since the age of 4 when I got my very first vanity set! I spent hours playing with that gift. But what really sealed the deal was when the movie "The Wedding Planner" came out. I knew I wanted to be a part of one of the most special days in a woman's life. I went straight to cosmetology school right out of high school and haven't stopped since!
Hometown: Mckinney, Texas
MVP Product: Mario Badescu Orange Blossom facial spray and Buxom Powerplump lip balm
Favorite Team: The Texas Rangers
How it all began: I started doing my own hair and makeup for dance recitals, competitions, and pageants when I was only 10 years old. As I entered my teenage years, my friends would constantly ask me to help them get ready for school dances, dance competitions, and other big events. Soon enough I became the "go-to" girl for hair and makeup! To this day, if I am not dancing or traveling the world, you can always find me doing hair and makeup.

Hometown: Southlake, Texas
MVP Product: Aveda air control
Favorite Team: The Rangers (duh!)
How it all began: For as long as I can remember I've always been the friend doing everyone's hair and makeup. After college, my mom gave me a motivational push towards pursuing my true calling: cosmetology, and now here I am today! It may sound cheesy, but I truly could not be happier. I simply love what I do!

Hometown: Frisco, Texas
MVP Product: I'm a big MASCARA girl! Right now I am loving Yves Saint Laurent Vinyl Mascara. Perfect for that little extra "OOMPH".
Favorite Team: Houston Astros
How it all began: I got my start experimenting in the world of makeup through being a competitive dancer. However, competing in pageants and later on holding the title of Miss Texas' Outstanding Teen required me to master a full-face in under 30 minutes. Not long after that, I was lucky enough to train under Reilly and Jordan as I transitioned into wedding and special event makeup.
Hometown: Bossier City, Louisiana
MVP Product: RCMA Setting Powder
Favorite Team: LSU Tigers
How it all began: I have always loved makeup. In fact, while I was in school I wrote my Senior Project on how the effects of makeup can impact self-image and ultimately strengthen self-confidence. The rest is history! I began doing hair and mastered airbrush makeup and I never looked back!
Hometown: Arlington, Texas
MVP Product: Kiehl's skincare product line
Favorite Team: Love my Texas Rangers!
How it all began: I started experimenting with hair and makeup at a very young age. All of my cousins, aunts, and friends would let me play with a variety of products and get them ready for special events. As I got older I realized not only how much I loved creating looks, but also how much I enjoyed making other people feel fabulous. I decided there was no better way to nurture my passion and creativity other than getting my license in the beauty industry and take off from there!